Here is a Bargain for Backpackers and More – The SOG Folding Shovel
The SOG Entrenching Tool is an excellent low weight camping spade and a worthwhile addition to your backpacking equipment gear. The saw blade on the side of the shovel ads to its usefulness.
Ideal for latrine duty as well as fire pit and tent trenching.
This compact SOG folding camping shovel comes with a nylon carrying case complete with a belt loop to make access to it easy, as well as the carrying of it.
SOG Entrenching Tool F08-N – Folding Shovel, High Carbon Steel Handle, Nylon Carry Case, Powder Coat Finish
Best Collapsible Shovel for the Money
And the key point about this shovel is purely the price. How can you go wrong with the under $12 price which includes shipping as well as sales tax for Amazon Prime members. Check it out here: http://amzn.to/2GtUcsp
Campfire use for a foldable shovel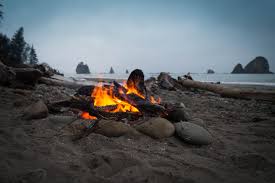 Proper campfire etiquette includes dousing your campfire. A handy little shovel like this SOG Entrenching tool is just what the doctor ordered. Not only to help clear the campfire site in the first place but to help cover the ashes after they have been doused with dirt.
Dig your temporary camping latrine with ease
A quick pit latrine requires a bit of digging, and this compact tool will certainly aid in that task. Both to dig the latrine and then to cover it afterwards.
While not the tool for a permanent camp latrine, it will serve its purpose well for temporary needs.
Trench around your tent to prevent run off rain water from damping your enjoyment.
A trench dug around your tent will help keep you dry during heavy rains that otherwise might pool under your tent.  A portable shovel can make all the deference in accomplishing this simple task.
SOG Entrenching Tool Specifics
Lightweight and compact folding shovel and pick

Tri-fold design for portability

Comfortable, folding steel handle

Includes nylon carrying case w/ gear loops

Overall length: 18.25-inches, Weight: 24.5 ounces, Lifetime Warranty
Entrenching Tool

A folding shovel can be an indispensable tool in today's constantly changing environment. When you need to move sand, dirt, or snow, a shovel is the best hand tools to have. Our all steel constructed entrenching tool uses a tempered steel blade with teeth cut into one side for cutting and slashing. The blade can be rotated 90 degrees to reveal a pick or to be used as a hoe with the shovel blade. Rotate the blade a full 180 degrees to use the pointed end of the pick in a straight manner. The triangular handle is strong and fits comfortably in either hand. When folded, it takes up about the same space as a stack of paper plates. Before any adventure, make sure you pack this portable, lightweight, and versatile tool. From the  Manufacturer's comments on the Amazon sales page.