We really liked the SOG Entrenching Tool for the average user, but if you are a serious Backpacker, Camper, Survivalist, or road warrior, or just want a top of the line tool, we recommend you take a look at the FiveJoy J2 Military Entrenching Shovel
with hardwood handle.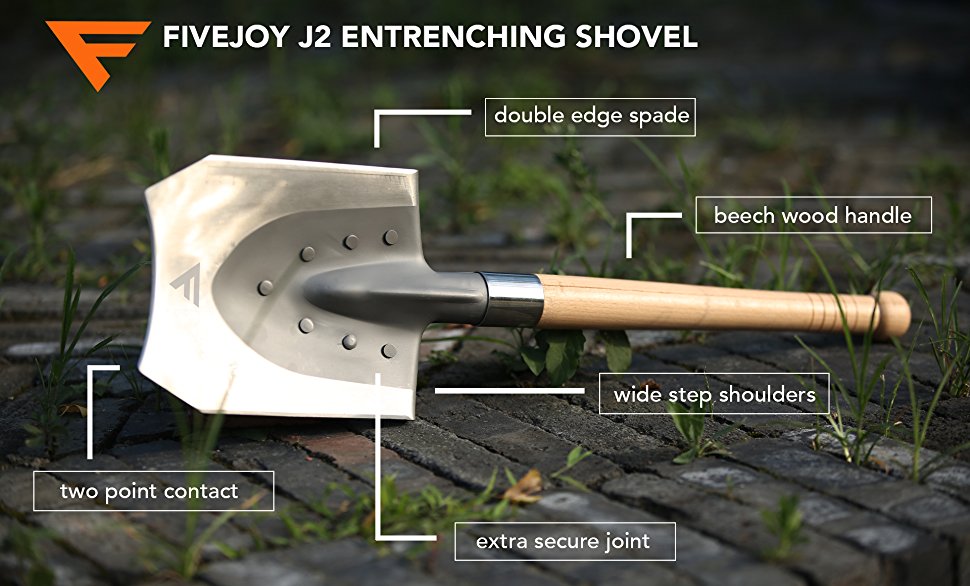 Right away you will notice the unusual shape of the blade. The two point contact helps penetrate faster and easier, with more stability. The wide shoulders allow your booted foot to apply full power for an easier job.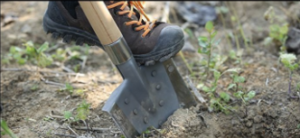 The sides of the blade add additional versatility. One side is sharp enough to whittle wood.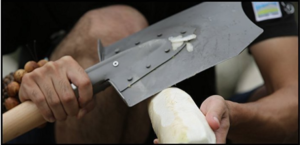 The Reverse side is a bit tougher – tough enough to chop bricks!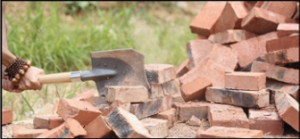 Easy to carry while hiking.
Built Tough
Beech Wood Handle, heavy duty riveted blade.
💪 TOUGHNESS GUARANTEED – High Strength, High Elasticity, High Ductility. The spade is forged with ultra solid carbon steel and secured with strengthening ribs for maximum strength and lifetime durability. This shovel can withstand being run over by a test trolley weighing 2 tons! The spade is water resistant, but not recommended for use in salt water. Go ahead- PUT IT TO THE TEST!

🏕 DESIGNED for SUPREME POWER & CONTROL – Our Patented Double Sided Design Fixing has the Spade fastened to the strengthened collar with nine (9) rivets to withstand rough prying and bending. The Concave, Dual Point Edge increases the contact surface to improve efficiency and stabilize entry into hard surfaces. Wide Step Shoulders allow you to easily step and apply extra force. Avoid direct contact with hard objects to prevent force deviation while digging.

⚒ MULTIFUNCTIONAL – Use this heavy duty shovel axe for gardening (loosen soil), digging trenches, building shelters, and leveling tent sites in the backcountry. The Double Edge design features a thinner edge for hacking trees, branches, chopping wood, paring, slicing vegetables, and a thicker edge that works like an axe to split bricks, cut iron wire and more. Store this versatile and powerful multitool in your car for digging your tires out of the snow/ mud.

✔ HARDWOOD HANDLE – Cold, hard, steel shovel head combined with a natural polished wood handle results in a handsome design that polishes well and withstands shock and wear. Built in hole on the top of the shovel handle makes it convenient to hang your etool on the wall or backpack. We've covered all the essentials.

⛑ DIG, HACK, CHOP AWAY – Primarily used for clearing disaster areas, entrenching and emergency situations, the FiveJoy J2 Shovel is a MUST HAVE tool for in field use for survivalists, campers, hikers and other outdoor groups. Add this to your Survival Kit Now!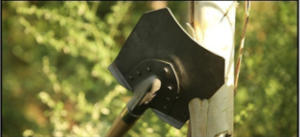 This sturdy tool transforms a simple shovel into a versatile tool and as such a clear advantage over lesser priced alternatives.
WHAT MAKES THIS SHOVEL A CUT ABOVE THE REST?

It's made of the same ultra solid, high carbon steel that our top selling C1 and RS Military folding shovels are made of! That means the same toughness, durability, and power.

The spade is reinforced with strengthening ribs and has a unique two point shovel head that increases the contact area with various surfaces so you can loosen soil and dig with less effort and strain. Dual sided blades allow you to efficiently hack through branches (thin side) and flip over to chop through bricks (thicker side) without having to switch tools.

Wide step shoulders allow you to step down on the shovel for extra impact and apply additional force. The rustic design of the wooden handle gives the J2 shovel a natural, part of the wilderness finish that never goes out of style. The end of the handle is carved for a secure, anti slip grip.

Store it in your car truck for emergency situations and use it to dig out your campsites. This versatile tool transitions seamlessly from your backyard to the great outdoors.

This is a SERIOUS piece of equipment. It's powerful, and extremely durable. At this price it's a no-brainer. Get it, you won't regret it.

Go tool for camping or any emergency situations and the size fits perfectly in the car trunk.

Nice sturdy shovel and amazingly light weight to carry metal detecting. Dual contact point gives a stable entry into hard surfaces

Built like a tank. All-round good tool/weapon. Very much worth the money.

Solid little shovel and it will be in my bug-out kit. Our scout used it for building a snow fort.

Got to me VERY Fast. First impression is that this is heavy duty. I took it to my back yard right away, and chopped on a stump. I also dug a little trench through some very rocky sand, and it did great.

*Some of components of the shovel are quite sharp, so please keep it away from children.  Do not immerse the shovel into corrosive liquid, such as sea water, acidic solutions, soap water or any other harsh detergents. … From Amazon.com product listing
++++
Now if you want a less expensive portable shovel, you cannot go wrong with the SOG Entrenching Tool
, While it has a saw blade on its side, it really isn't a multi-tool like the FiveJoy
. That said, it is the bargain priced option for those who do not require the versatility of the FiveJoy J2